Once bitten twice shy. This is what led India to have an eye in the sky. The Kargil misadventure by Pakistan convinced India that Islamabad could no longer be left unwatched. it, this time from the heavens.
Pakistan media is worried that India is taking rapid strides in space technology with robust investment. in his weekly address yesterday said that "such pursuits" should not be "directed towards a buildup or destabilizing military capabilities.
This can "negatively impact the regional strategic stability", he said while acknowledging that "all space technologies, including earth observation satellites, are inherently dual use and can be employed for both civilian and military purposes.
But, then, India is already keeping a watch on Pakistan for few years. This is believed to have prevented a recurrence of Kargil like situation along the borders.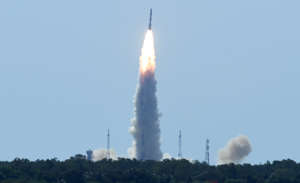 Soon after partition, Pakistan Army mapped a plan to capture Kashmir. A war began and halted without pushing the Pakistan Army back to its territories. Another war happened in 1965 followed by one more six years later.
During the 1971 war, India came to know about the importance of space technology in devising military plans. that the USSR had sent its submarines in support of India. But Indian space programme was in nascent phase at that time.
Kargil incursion by Pakistan took India by agonizing surprise. India had no clue that Pakistani Army had come well inside its territories and stood there for months. This served as the final reminder and warning to India that Pakistan must be watched over.
In a few years' time, the Indian Space Research Organisation (ISRO) launched a series of satellites with capabilities that could be of significant use to the armed forces. CARTOSAT and RISAT came up to give India the capability to keep an eye on Pakistan's activities along the borders.
When India launched RISAT-1 in 2012, the American space technology experts said that this remote sensing satellite had radar reconnaissance imaging capability that was comparable to that of the most modern versions of the high-flying U-2 spy plane operated by the US Air Force.
With the launch of Cartosat 2E+ in June last year, India considerably enhanced its remote sensing capabilities in space. Cartosat 2E+ was dubbed by many as India's "eye in the sky".
The ISRO today launched its 100th satellite as the PSLV C40 placed 31 satellites from seven countries - including three Indian - across two orbits. The main payload of the PSLV C40 today was the fourth satellite of Cartosat 2 series.
the total number of ISRO satellites that can be used for military purposes has gone up to 14. and can be used to keep an eye on enemies along the land and sea borders.
Don't miss out!
Read more...